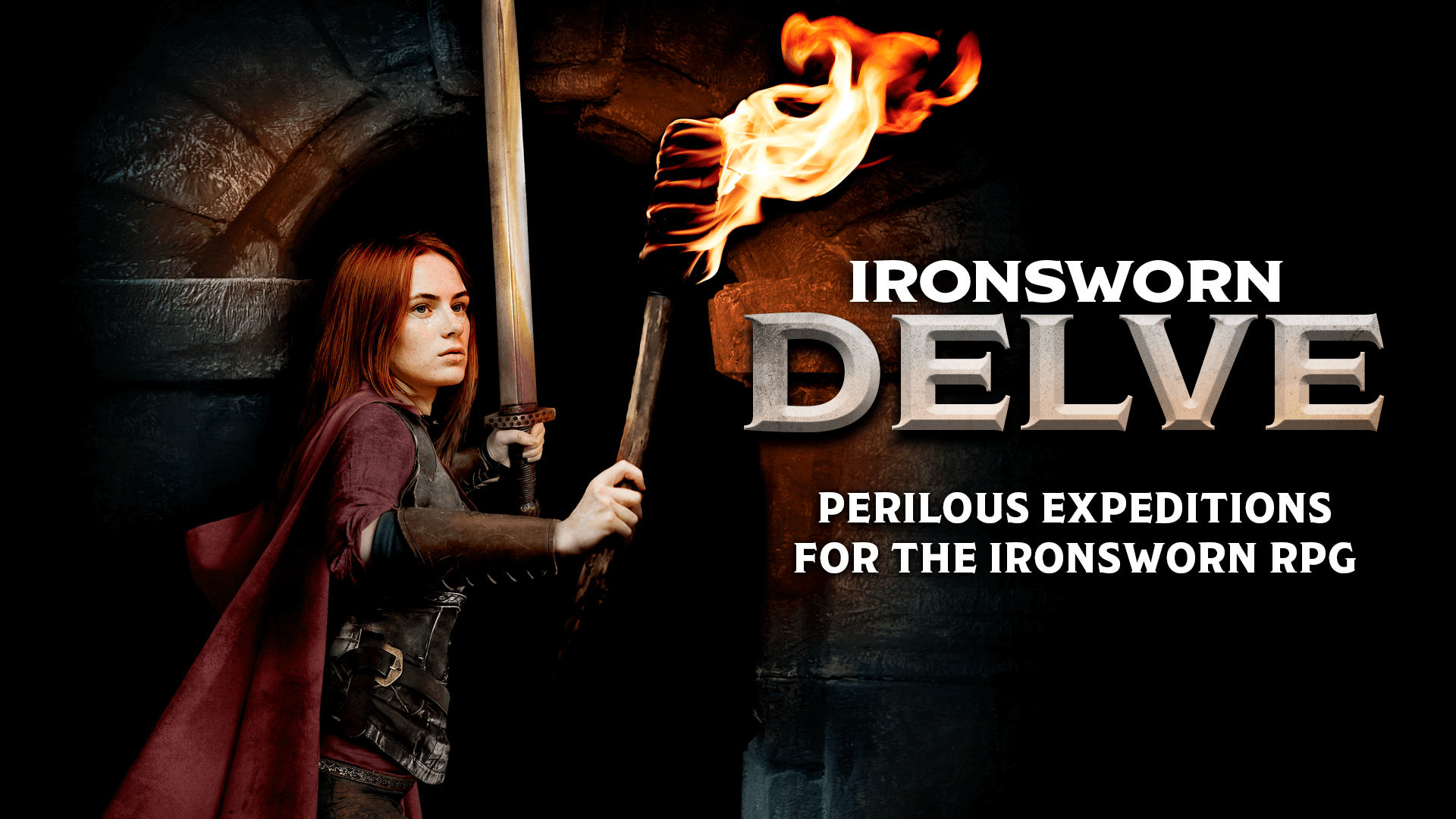 Ironsworn: Delve
A massive expansion for the Ironsworn tabletop roleplaying game. Expeditions into perilous places, more foes and encounters, an array of new oracles, expanded setting info, mysterious objects of power, campaign threats, and much more!
---
The Depths Await
This supplement for the Ironsworn tabletop roleplaying game takes your quests to the deepest, darkest reaches of the Ironlands. Plunge into subterranean caverns. Explore untracked forests and foreboding swamps. Journey across icebound wastes. Uncover lost secrets within ancient ruins.
To fulfill your sworn vows, you will brave the most dangerous places of the world and face the most terrible foes. Will you escape the depths? Play to find out.
With an array of new options and tools, Ironsworn: Delve is the perfect companion for your Ironsworn campaign—in or out of the dungeon.
---
What's Included
Support for solo, co-op, and traditional guided play
Gameplay options, tips, and setting details for quest-driven expeditions within perilous sites
Hordes of new foes, extraordinary encounters, and campaign-level threats
Wealth, artifacts, and supernatural rarities to give your character an edge
Quest starters, sample locations, and an assortment of new oracles to keep your story moving
Inspirational tools for zero-prep gameplay—with or without a GM
Note: This supplement requires the use of the Ironsworn core rulebook, which is free to download.
---
About the Delve Digital Edition
The Ironsworn: Delve digital edition includes a 235-page rulebook, printable theme and domain cards, and reference materials. The rulebook PDF is bookmarked, searchable, and optimized for fast tablet display. Portrait and landscape (two-page spread) formats are included.
---
More Info / Print Editions
For Ironsworn information and resources, or to purchase print editions, please visit ironswornrpg.com.

Purchase
In order to download this game you must purchase it at or above the minimum price of $12.50 USD. You will get access to the following files:
Ironsworn-Delve-Rulebook.pdf
37 MB
Ironsworn-Delve-Rulebook-Spreads.pdf
38 MB
Ironsworn-Delve-Cards.pdf
119 kB
Ironsworn-Delve-Moves-Reference.pdf
109 kB
Ironsworn-Delve-Site-Worksheet.pdf
62 kB
Community Copies
Support this game at or above a special price point to receive something exclusive.
Community Copies
Every sale of Ironsworn: Delve at itch.io adds a free copy to the community pool for those whose budget doesn't enable them to pay the listed price. If you're dealing with financial hardships and unable to budget for a copy of Delve, please claim one of the free community copies. The community pool is refreshed at least once a month.

Download demo